Two Instructors Receive Inaugural Excellence in Teaching Awards
DateMonday, May 23, 2022, 6:16
AuthorChemeketa Public Affairs
Taylor Marrow and Brent Mobley-Oorthys were formally recognized by the Chemeketa Board of Education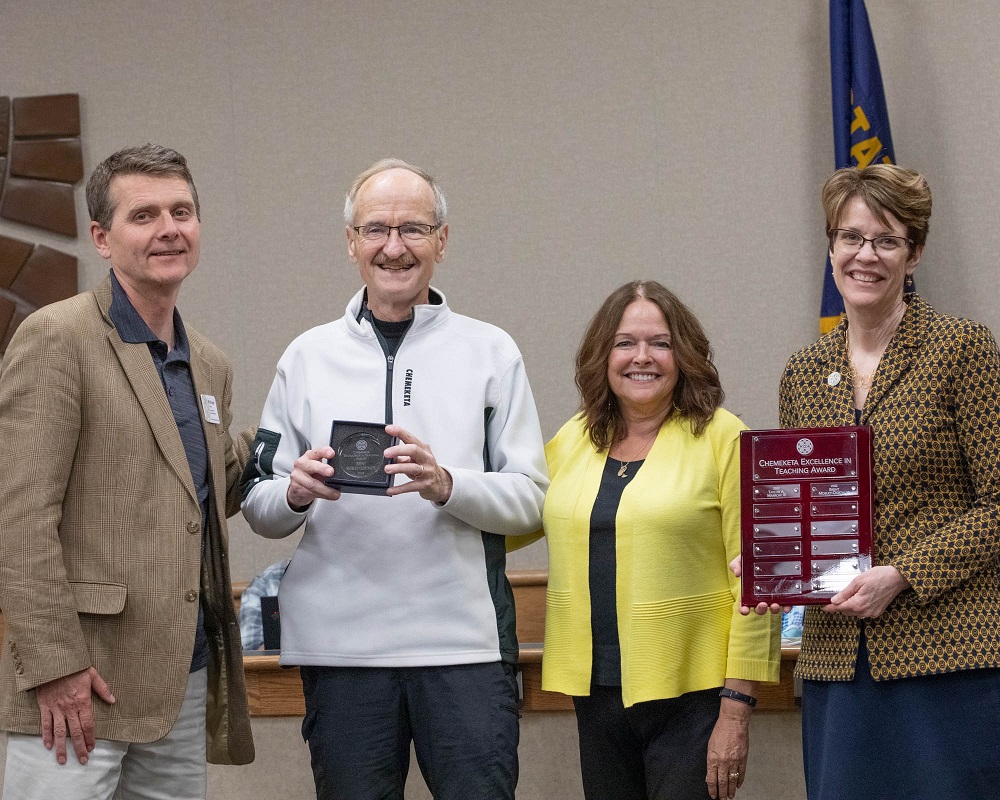 Chemeketa Community College recently announced the selection of Taylor Marrow III, full-time instructor from Chemeketa's History department, and Brent Mobley-Oorthuys, part-time instructor from Chemeketa's Health Information Systems program as the inaugural winners of the Excellence in Teaching Award. Nominees were submitted by students, employees, alumni, and the greater community and then evaluated on specific criteria, including mastery of subject matter, innovative curriculum development, and instructional design that fosters the critical thinking necessary for engaging successfully with complex academic challenges. Additionally, nominees must display exceptional service to the college and our community.
Taylor Marrow III has taught at Chemeketa since 2004. Marrow's excellence in teaching is best shown in how he skillfully facilitates class discussions that leave indelible impressions on students. One student commented, "It was clear some of the students were zoning out so Professor Marrow shifted gears…by the end of class every student - even the traditionally quiet ones - were actively participating…in all my years of schooling, I had never felt a classroom so alive as I did that day." He guides students in perspective-taking and historical analysis by investigating primary sources while also helping them discover connections to present-day events. Outside of the classroom, Marrow mentors students, regularly offering assistance and support. He frequently contributes to co-curricular activities sponsored by Multicultural Student Services and College Life. He even makes time for scholarship, having recently edited the Chemeketa Press book, America Awakened: The Anti-Lynching Crusade of Ida B. Wells-Barnett.
Brent Mobley-Oorthuys was a student at Chemeketa prior to joining the College as an instructor in 1996. The "life-changing" experience he had as a student imbued him with a mission for ensuring his students have the same opportunities. Brent excels by immediately connecting with all his students, learning about their professional goals, identifying their academic needs, and marshaling tailored resources for their success. His courses require students to commit medical terminology to memory, so in the classroom, he enlivens each session with a range of strategies to promote engagement, retention, and recall. He equips students with learning skills alongside the course content that allow them to succeed. One student commented, "He held us to high standards, and provided all the tools we needed to meet those standards."
In addition to formal recognition by the Board of Education, the winners each received a $1,000 salary bonus, and their names were engraved on a commemorative plaque that is now displayed in the library of the Salem campus.
The selection committee was impressed with the number of nominations they received - 170 instructors in all - and they were inspired by many of the candidates' work. In particular, they made honorable mentions to the finalists: Darren Hunter, Laura Lawn, Todd Pynch, Mariah Tilman, and Rebecca Wilson for the part-time award and Christopher Claysmith, Jill Lomax, Christopher MacLean, Shannon Othus-Gault, Erika Romine, and Keith Schloeman for the full-time award.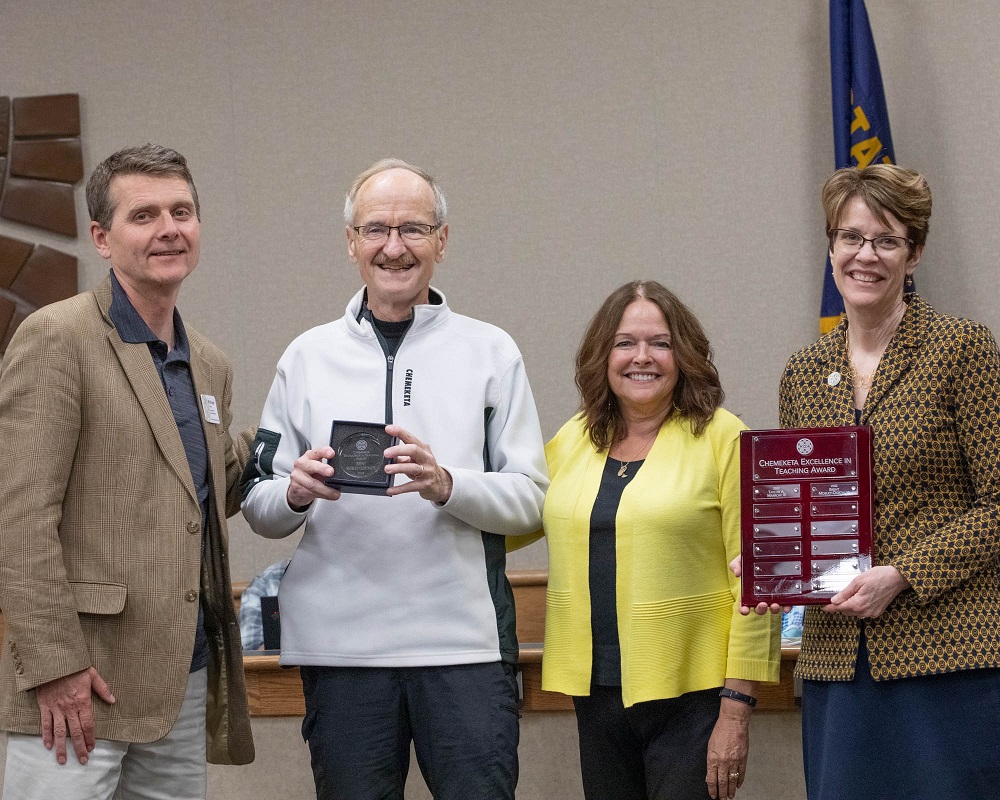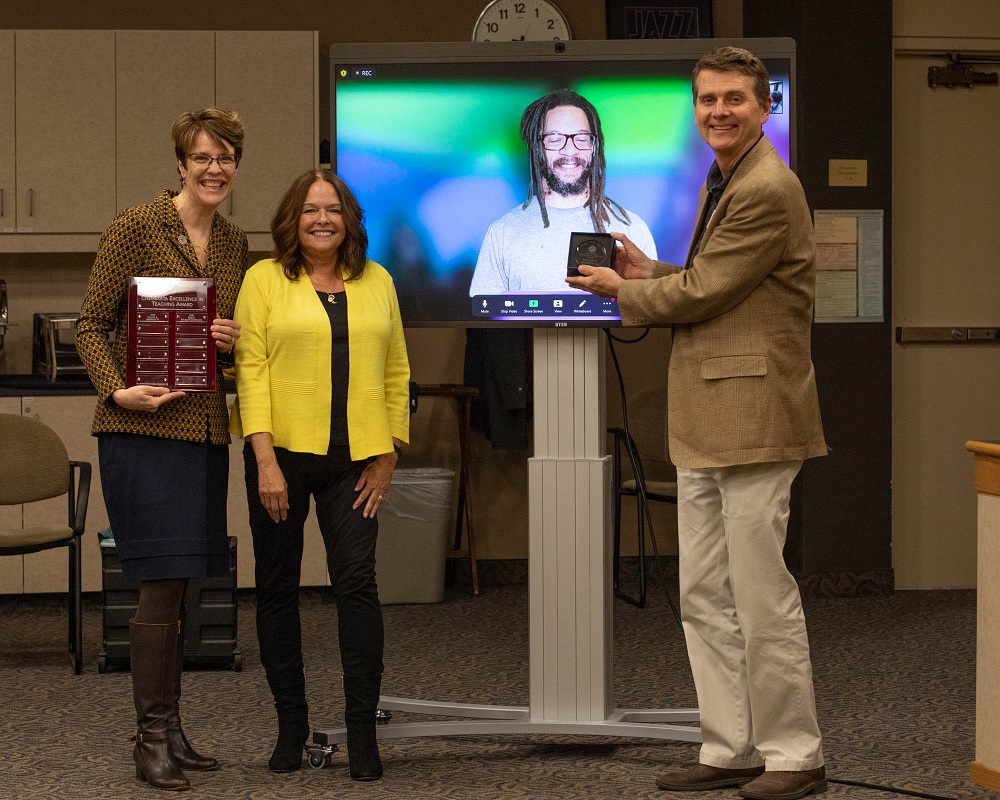 All news