President
Meet Chemeketa President Jessica Howard (Scroll down to read the latest news from the President's Office)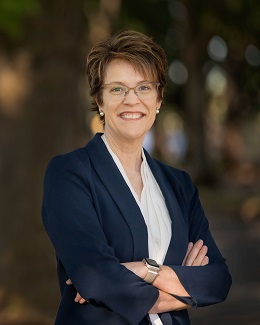 About President Howard
Jessica Howard became Chemeketa's 11th President in July 2019. She holds a Ph.D. from New York University along with a Master and two Bachelor degrees from Rice University. Her academic work has been interdisciplinary and based in the arts and humanities.
Prior to coming to Chemeketa, Jessica held vice president roles at San Antonio College in San Antonio, Texas, and then became Campus President for the Southeast Campus of Portland Community College. She began her career in higher education as a faculty member, teaching for many years and serving as a department chair.
Jessica is an Aspen New Presidents Fellow and serves on the Campus Compact Board of Directors. In 2019 she received President of the Year award from the Association of College Unions International, and became an honorary member of Phi Theta Kappa in 2014. She is a proud member of the Salem Rotary and the American Association of Women in Community Colleges and regularly serves on state councils, workgroups, and taskforces associated with equity, higher education, and workforce. She is a voting member of the Hispanic Association of Colleges and Universities and is active with the American Association of Community Colleges.
Well after receiving her doctorate, and while serving as a college vice president, Jessica "went back to school" and obtained her Associate of Arts degree. "I thought it was important to model the importance of student completion and to be able to attest, first-hand, to the quality and value of community college teaching and learning."
Read Jessica's Fall 2023 Kickoff Message
Jessica on the Salem Chamber of Commerce Podcast
Social Media
You can follow President Howard on the following social media:
Chatting with Chemeketa on KMUZ
Every Monday at 9 am on KMUZ 88.5 FM and 100.7 FM, Jessica joins with Les Wielgos to talk about topics about the college that are geared toward current and future students, community members, and business & industry.
Listen to full episodes here, or find Chatting with Chemeketa on your favorite audio streaming app.